January 29, 2008
Do call me George.
I have a collection of etiquette books. My first and favorite was found in the free books box outside of Powell's in Hyde Park. It's Vogue's Book of Etiquette, published in 1948. The author is Millicent Fenwick, an associate editor of Vogue. That a Vogue editor would write an etiquette book and that she should have such a perfect name for the task makes my heart beat just a tiny bit faster.
Anyway, here's a tidbit to amuse you in these days of informality.
A man addressing a woman always waits to call a woman by her first name until she has taken the initiative. A woman may make a point of the change by saying, "Please, don't call me Mrs. Edwards"; or she may simply start calling the man by his first name. But, unless the man is very much older than the woman, he should never fall into the modern rudeness of saying, "Do call me George."
modernity
So I was doing a bit of the "from the thrift store you came, and to the thrift store ye shall return" yesterday and decided to pop in for a look around. You get rid of some stuff and you make room for more stuff. I spotted this cabinet.
Which turns out to be a sewing machine cabinet. The "drawers" are a facade for a built in bench with underseat storage! How sleek and built in. How mid-century!
In that miraculous interchangeability of sewing machines built in the days before planned obsolescence, the old pink Brother fits right in. This is maybe one of the most loveable things about sewing machines. Need a belt? Need a bobbin case? A cabinet? They're all standard sizes. Across brands. Across decades. Plus you can actually observe all the moving parts and figure out which one isn't moving the right way. No mysteries. No chips. It's an actual machine.
The machine in the cabinet seems very close to working -- needs a new belt and a new slide plate, but I think I can find those without much ado. At first I thought I'd get rid of it and just use the cabinet for the Brother, but I tried it a bit and I think it might be a winner. I've never heard of the brand and couldn't find much on the internet -- it's a Radi-O-Matic, and has enough levers and dials to get a man on the moon. All metal. No plastic. And it's got the manual with it. And if there was any doubt about it, it's very Modern. It's even labeled.
January 20, 2008
music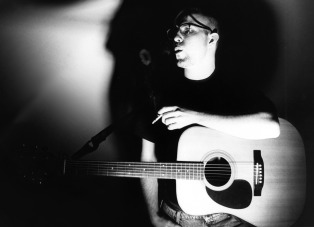 I heard through the grapevine (and the University of Chicago alumni magazine) that my old friend Paul K. has released a 100 song MP3 collection available through iTunes. We used to call Paul "the singing librarian" or "the suburban balladeer". You might call him a singer-songwriter or a folk singer. Anyway, twenty bucks gets you a whole lot of Paul. Including a song about me.

how's this for a knitting machine?
Came across this video on YouTube. A knitting machine made entirely of legos. Wow.
January 17, 2008
plying my trade
Here's a little photoessay about my most recent spinning creation.
8 ounces of superwash merino roving from Matahari Spinnery. Most of the shades are warm, but I wanted to introduce a little surprisey contrast of green. It ended up too pale and blue and I just didn't like it. These dyes are pretty old and not always predictable.

So I stuck the offending portion of the roving into a pan of hot water with two packs of cherry Kool-Aid for 20 minutes. This browned and greyed most of the offending portion and left just the smallest blips of the cools. Cool.

Outside drying.

I knew I wanted to ply this yarn and originally I was going to simply divide it in two, spin each half and then ply them, so that they would mostly (theoretically) match up and I could get a gradient from one end of the skein to the other. I divided the roving in half lengthwise (A and B), then divided the skein into lengths of "lighter" and "darker". First I spun A dark, then A light. That's the bottom bobbin. In watching the colors go by, I decided that rather than pairing the light with the light and the dark with the dark, there should be more coherence, so the second bobbin started with B light and ended with B dark.

The result, I think is quite pretty. No one should be surprised to see these colors from me, I suppose. By quick calculation, it's about 220 yards of bulky yarn. No project in mind for it... yet.